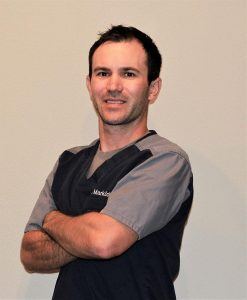 Mark Schutte, DDS
Dentist serving Pasco Tri-Cities area
Wine Country Family Dental
Dr. Mark Schutte was born and raised in the Columbia Basin area with ties to both Othello and the Tri-Cities. He established Wine Country Family Dental in Pasco, WA, in the Tri-Cities area in order to practice dentistry and give back to the communities and people he has grown up with. He comes from a background of a family made of farmers and teachers. Working summers on the family farm when he was younger has made him appreciate the hard-working people of the Columbia Basin. Coming from a family of educators, he has also followed in their path of education.
Dr. Schutte grew up and graduated in Othello, WA. He continued his undergraduate studies at Central Washington University in Ellensburg, WA, and graduated in 2009 from the University of Washington School of Dentistry. After graduation, he served for five years in the United States Navy as a dental officer completing a one-year rigorous hospital-based General Practice Residency at Naval Hospital San Diego. He then completed a two-year operational tour at Marine Corp Air Station in Yuma, AZ, where he received the Commanding Officer's Clinical Excellence Award. During his final two years, he was stationed at Naval Hospital Bremerton Branch Dental Clinic Bangor in Silverdale, WA.
Continuing education in dentistry is a high priority for Dr. Schutte. He strives to bring his patients the best and most up-to-date care that dentistry has to offer. Dr. Schutte completes up to a hundred continuing education hours a year, far exceeding the minimal requirement of twenty-one set by the Washington State Dental Board. He is actively involved in the world-renowned Great Blue Heron Study Club and takes numerous classes in dental sleep medicine, orthodontics, oral sedation and much, much more. He has active memberships in the following professional associations: American Academy of Dental Sleep Medicine, Academy of General Dentistry, American Dental Association and DOC's education for sedation dentistry.
Dr. Schutte is actively involved in the communities of the Tri-Cities. He is currently an active adjunctive faculty member at Columbia Basin Community College for the Hygienist Program. He helps train and provide assistance to the dental hygiene students. Wine Country Family Dental is an active member of Pasco Chamber of Commerce, Tri-Cities Chamber of Commerce, and Tri-Cities Visitor and Convention Bureau. The office actively participates in other community events like the Hispanic Chamber of Commerce Mariachi Festival, Hanford Worker's Health and Safety Expo at the TRAC, and Breast Cancer Awareness Run at Columbia Park, and the office also routinely gives out free toothbrushes and info to members of the community. Dr. Schutte also enjoys volunteering at Grace Clinic in Kennewick when they are in need of a dentist.
His goal as a dentist is to provide the very best care in a relaxing environment. Let's face it: being in the dental chair for some is their greatest fear, and Dr. Schutte likes to provide an atmosphere that helps patients overcome that fear so that they are able to get treatment they need. He enjoys educating patients on dental and oral diseases and conditions, how tooth-related disease and conditions relate to overall heath, and how they can affect each other. Not only does he want his patients to have a beautiful smile that they can be proud to show off, he also wants them to have a healthy one.
Outside of work, Dr. Schutte enjoys spending time with his family and friends. He has two rescue dogs, Taylor (Weimaraner) and Bruce (German Shorthair Pointer), who have made numerous moves with him while in the military. Dr. Schutte enjoys golfing, fishing, camping, smoking meats/BBQing and going to music concerts.